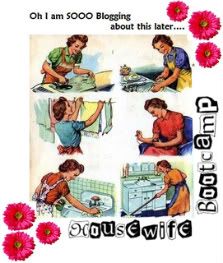 Oy Vey what a week it has been!!! I am happy to report i did get quite a few things accomplished but embarrassed to admit i did not get everything on my list done at all... Every time i walked into my office/craft room/ guest room/ junk room... i cringed and walked the other way... so here are some of my after pictures... and as you can see from them... i enlisted in a little help ;0)
So Here we go with week 2!!! Id love to see all of your progress... hear about your progress... get some tips... (on removing stains from kids clothes lol) SOOO you know the routine...if you have stuff to do this week and have stuff to get done add yourself to the linky list, grab a button... List 5 to do things (if you participated last week... tell us about your progress) and don't forget to show some support and encouragement to the others out there!
And i will be drawing for my
Give Away
this evening so today is the last day to enter!!!!!!