DUE TO READER DEMAND: HOUSEWIFE BOOTCAMP IS IN EFFECT!!!!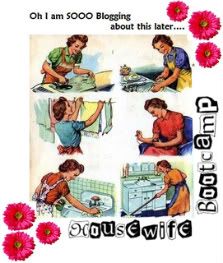 This is week 1 for Housewife bootcamp.
This is how it works. Every Tuesday if you have stuff you need to get done (projects, chores, errands, blog work, basically anything you have been putting off) then grab a button and add your self to my Link List. Then post your 5 things you
WILL
accomplish this week!
Then:
You can mention 5 people from the list on your post to give them encouragement... or just visit them and load up their To-Do List with encouraging comments or tips on how to do it better!!! (everyone loves a good comment) Then every Tuesday we will post what did/
didn't
get accomplished and list our next 5things!!!
Here are mine:
(warning pictures are awful!!!! lol)
1. Organize/ clean out My office (this should count as all five by the looks of this picture... but ill count it as one!!!!)
2. Do our vacation laundry (it always seems we bring back way too much dirty laundry)

3. Clean out/ Organize my fridge

4. Clean out my son's closet- donate toys/ clothes

5. Clean up my blog... i feel like i need some major organization here!


I have found that when i start something... if i post it on here first i always have people who ask me about my progress and about the finishing product and that i feel bad for letting you guys down... so i am going to take advantage of this whole blog community... and use you guys to get some stuff done and hopefully cut down my procrastinate!!!! I hope others can take advantage of this support system as well... and pass the word along so others can use it as well!! This is a great way to meet new people, help people out and give them some encouragement!!! (which is a little something we could all use!)

SO have fun!!! Here is our first Linky List... Lets hope it get full of names of other procrastinators (so i know I'm not the only one who is avoiding my laundry room!!!)


(come on sign up I'm sure there's something you need to accomplish this week)


Lastly, Make sure not to forget about my Give Away